Train World 10.05.2022 – 22.01.2023
Do not miss a unique opportunity to discover the royal trains!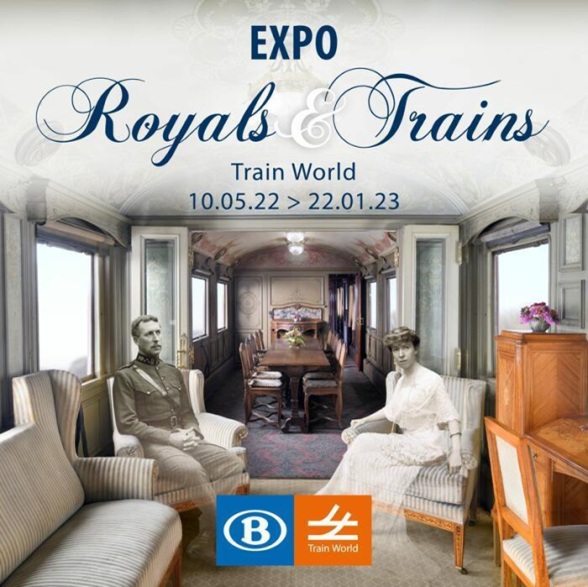 Train World, the museum of SNCB, organises from 10 May 2022 to 22 January 2023 the temporary exhibition Royals & Trains. During this exhibition, discover the unique link between the Belgian royal family and the world of railways. Relive the splendour of royal journeys through exclusive photographs, objects and historical documents from our collections and those of the Royal Palace, as well as Talking Heads.
As the icing on the cake, we are exhibiting for the first time five royal coaches together in all their glory in Train World. A unique opportunity to discover the royal trains!
From the construction of the first railway line in 1835 to the present day, the Belgian royal family has always supported the development of the railways in Belgium and Europe. Leopold I, the first head of state in the world to travel by train, made every effort to provide Belgium with a railway network that contributed to its economic development in the 19th century and beyond.
This involvement is just as great today under the reign of King Philippe. This is why Train World and SNCB have decided to dedicate a temporary exhibition and publish a book on the fascinating history of the link between our Monarchy and the train.
This exhibition shows rare documents of the first train of Leopold I and other royal carriages that no longer exist, building plans, tea and dinner sets of Albert I and Leopold III, objects of the personnel of the royal convoys, and items from the travelling wardrobe of Queen Astrid. In addition, we will also portray life on board these magnificent trains. The five royal coaches that will be exhibited in Train
World for the first time are the highlight of the exhibition.
Find out more on: https://www.trainworld.be/en/exhibition-royals-trains